Creation is Messy Frit Reference

| | | |
| --- | --- | --- |
| CiM 1 | CiM 2 | CiM 3 |
| | | |
| 101-111 | 112-202 | 203-213 |
| | | |
| CiM 4 | CiM 5 | CiM 6 |
| | | |
| 214-305 | 306-402 | 403-413 |
| | | |
| CiM 7 | CiM 8 | CiM 9 |
| | | |
| 414-425 | 426-476 | 478-500 |
| | | |
| CiM 10 | CiM 11 | CiM 12 |
| | | |
| 501-512 | 513-523 | 524-534 |
| | | |
| CiM 13 | CiM 14 | CiM 15 |
| | | |
| 535-586 | 589-608 | 609-619 |
| | | |
| CiM 16 | CiM 17 | CiM 18 |
| | | |
| 620-660 | 661-709 | 710-765 |
| | | |
| CiM 19 | CiM 20 | CiM 21 |
| | | |
| 773-807 | 808-820 | 834-901 |
| | | |
| CiM 22 | CiM 23 | CiM 24 |
| | | |
| 902-939 | 957-994 | Newer Colors |

One of the first things you should notice is that these charts have chips from the rods but my other charts don't. I was sitting at my torch one day, getting ready to start the Limited Edition colors and I noticed that the rod didn't quite look right. My brain was saying the red transparent rod should look one way, but my eyes were seeing something else. That's when I decided to do the first chip. I found out that the rod I was using (Bing if you're really curious) wasn't a solid color at all. It was banded. I tested a few other colors that same way, and some of them were banded as well. I decided that this might be something important to know about just in case it might make a difference in how your application of it turns out. Sometimes it's with clear and sometimes it's with a transparent version of the opaque color. Sometime's it's even with another color altogether, like Razzleberry. Isn't glass fun?
It has been suggested to me by Amy Kinsch that this banding may be because they are striking colors that are partially in the unstruck stage. I did some tests on Cranberry Pink and it did strike to an even color. Bing and Schoolbus still show some slight banding, but did become more even. Lots of creative possibilities with this.

I chatted with Kathy and this is because all CiM colors are hand pulled, not done with a machine so there will be some variances in rods with color that strikes

Light Sources Matter
Purple glass is a very difficult color to capture in an image - just ask most lampworkers. For this reason, depending on the light source, some of the frits on these charts can appear as bluish or purplish. I don't like to alter the colors of the charts, so keep that in mind. Here is a chart I made with the same rods in both kinds of lighting.
When considering a light source for your studio, photography, or when doing a show, your light source matters.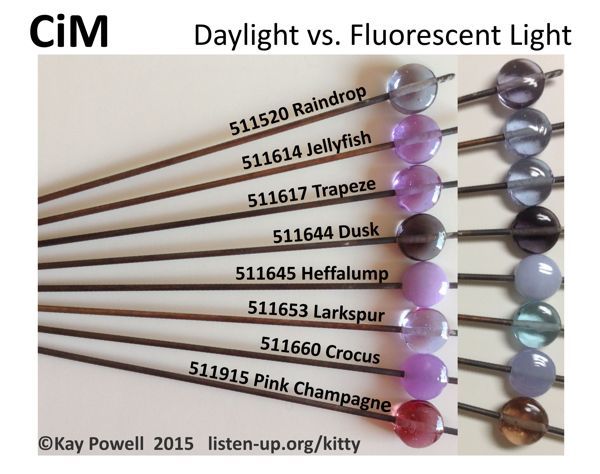 You can contact Kitty by emailing her at kay@listen-up.org
© 2002-2023 - Kay R Powell. All rights reserved.