Lucets

What is a Lucet?
From the Wikipedia page on Lucets:
A lucet is a tool used in cordmaking or braiding which is believed to date back to the Viking and Medieval periods, when it was used to create cords that were used on clothing, or to hang items from the belt. Lucet cord is square, strong, and slightly springy. It closely resembles knitted I-cord or the cord produced on a knitting spool.

What does it look like?
These are some of my personal Lucets I made using Red Oak with a Tung Oil finish.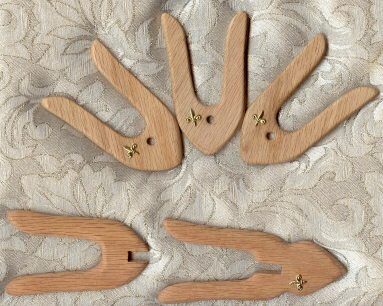 Here is the double lucet put together. The pattern came from Lady Lidia Lijovich of Ragusa. The pattern I used for the single lucet was actually the inside piece from the double lucet without the notch cut out.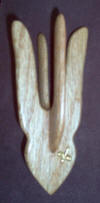 There are many other styles of Lucets out there. I find the ones above are the most comfortable in my hand. The Viking Answer Lady has some lucets from history pictured on her site. Modern lucets can come with or without handles. A quick search on ebay will show you the various styles available. Basically though, anything with 2 prongs can be used as a lucet - even a fork with 2 tines. The double lucets are not historical though. Their use is more modern.

What does the cord it makes look like?
Here is a picture of a display I did showing the different types of cord I made using a Lucet. Click on the graphic to get a better look at it. All cords were dicussed in Lucet Braiding Variations on a Renaissance Cord, even the buttonholes.


How do you use the Lucet?
Your Luceting Technique can be easy or complicated, or somewhere inbetween. I've made up a worksheet for a very easy luceting technique. Just click on the image, right click when it comes up, select save image as and...Bob's your uncle.

Here's 2 more pages with Directions
Is a Knitting Spool a Lucet?
Yes and no. One with 4 pegs can be used with the same techniques as a double lucet, but typically the knitting spool's cord goes around and not through the middle. Knitting spools can also come with more than 4 pegs or nails. For more information on Knitting Spools visit The Lost Art of Knitting Nancys.

Where can I learn different types of cord?
All of the cords in the picture above were made by following the directions in Lucet Braiding Variations on a Renaissance Cord. This has the largest variety of designs of any of the other books I've looked at - but I'll keep looking.


How Strong is the cord?
I had always heard that a luceted cord was 7 times stronger then just the cord. OK, I can understand it being stronger, but 7 times? All cords or just certain types of cords? This was years and years ago. To answer those questions I started working towards answering those questions. I made up a bunch of 7 different Cords and had both the plain cord and the luceted cord tested with a pull strength test. I never was quite sure how I would present this information all on a single chart till it came to me a month or so ago. Just click on the picture to see the full chart. The results were not what I expected. Believe it or not, luceted silk is less strong once it is luceted. I've since learned that it's because the silk threads are so fragile that they can break as you work with it.
Many thanks to Heather K. for helping with this project. It would never have been completed had it not been for you.


What do you do with the cords you make?
I use them as cords for my lampworked beads, for decorative embelishments for my medieval garb, as shoe laces, belts, etc. I even had someone give my son a Christmas ornamet made out of luceted cord in the shape of a cute little cat.
Please excuse the fading on the white dress's neckline. This dress is at least 10 years old.

Facebook Groups relating to Lucets

Have fun and enjoy Luceting!

You can contact Kitty by emailing her at kay@listen-up.org
© 2002-2023 - Kay R Powell. All rights reserved.